Short Inca Trail to Machu Picchu in 2 days
Enjoy a full day Inka trail with a sunset experience in Machupicchu and next day be delight with the Machupicchu Sunriseguided tour. The Inca Trail with surrounded by the Andean mountains, primitive lush vegetation and extraordinary ecological varieties. The trail goes through the Machupicchu National Park and enters through Inti Punku "The Sun Gate" with unforgettable views of Machu Picchu. Upon arriving to Machu Picchu, enjoy a Sunset free time in Machupicchu. Next day get a Sunrise guided tour in Machupicchu, with full of fresh energy and good Mother earth energy.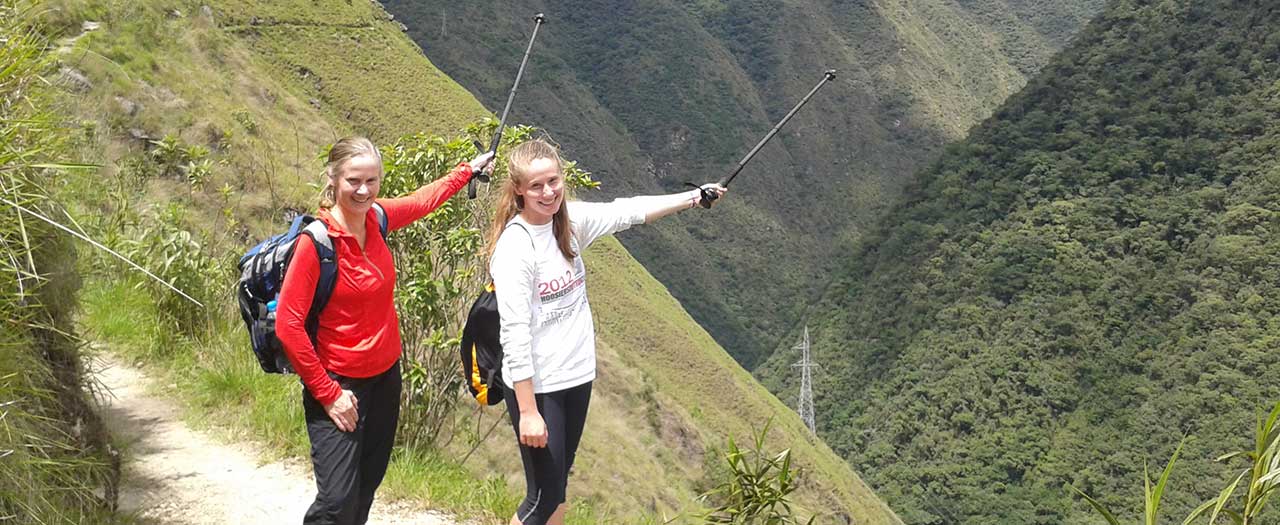 ---
INCA TRAIL 2 DAYS 1 NIGHT TO MACHUPICCHU.
Inca trail 2D 1N to Machupicchu with a sunset experience in Machupicchu on our 1st day "with few people"; taking this adventure day trek we going to visit the most important Inca site of the famous Inca Trail, Wiñayhuayna "For Ever Young", midday we going to arrive to The Sun Gate and in the Afternoon a beautiful sunset Machupicchu free time "with few people", next day we going to enjoy a guided tour in Machupicchu.
Day 1
At 4:00 am your guide with our van will pick you up at your hotel in Cusco city, immediately transfer to Ollantaytambo train station.
(Train leaves at 6:10 am) You will travel through the Inka´s Sacred Valley to Ollantaytambo Train Station.
The Expedition train ride consists of spectacular views in the Sacred Valley of the Incas, a little over an hour to KM 104 also know such as "Chachabamba".
At 7:20 am "INRENA" Machupicchu check point ", where we need to show our original passport, right away we going to start the Half Day Inca Trail until Machupicchu, on our way we going to visit Wiñayhuayna "For Ever Young" archaeological site and the the Famous Sun Gate, from this place we can have a first view of Machupicchu.
By 14:00; exploring time in Machu Picchu Inca city, your guide explain you all the history about this amazing and mysterious Inca city.
By late afternoon, enjoy sunset and take the great picture when Machu Picchu is empty.
At 17:30 take the bus down to Aguas calientes.
Day 2
By 5:30 am Bus up to Machupicchu Inca City.
By 7:00; Sunrise exploring time in Machu Picchu Inca city, your guide explain you all the history about this amazing and mysterious Inca city.
By 9:00 am free Time to Explore Machupicchu on your own step.
By 18:20 take the train and transfer back to Cusco (Train schedule can change according availability).
Note: All times are approximate and can vary according physical conditions or the impact of weather conditions. We enjoy our journey with safety.
Itinerary
Day 1: Cusco - Ollantaytambo - "Chachabamba" - Wiñaywayna - Inti Punku "Sun Gate" - Machu Picchu - Aguas Calientes.
Our trek today takes us along the most impressive stretch of the Inca Trail. We'll visit beautiful Inca sites, see a variety of flora and fauna and get to take in the fantastic panoramas of the Andes Mountains. Covering 10km of the trail our journey begins in the Sacred Valley and works it's way up along an original Inca Trail to the Inca site of Winay Wayna before continuing on to Machu Picchu via the Sun Gate (Inti Punku). As we make our way to Machu Picchu we'll pass through the lush and verdant cloud forest that covers the mountain and get to see a variety of plants, flowers and birds along the way. We may also see some larger mammals such as Viscachas (rabbit-like Chinchillas) and Spectacled Bears (if we are very lucky). After a full day trekking we'll arrive to the Sun Gate (Inti Punku) in the late afternoon and get our first views of Machu Picchu spread out on the mountain below. The light at this time of day is great for photos and with fewer tourists in the site it's a perfect time to take some pictures of the site.
Free time to Enjoy the Sunset in Machupicchu After we've passed through the Sun Gate we'll carry on along the trail a little way before taking a side trail that leads us to Aguas Calientes in the valley below where we'll check in to our hotel. Meals : Lunch and dinner.
---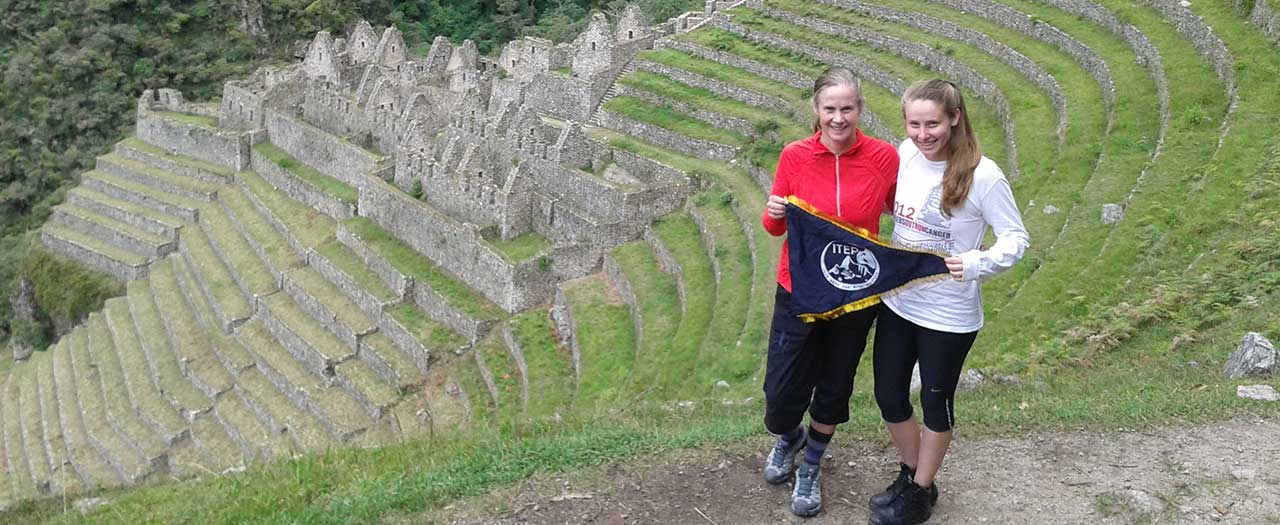 Day 2: "Sun Rise" – Machu Picchu – Aguas Calientes- Cusco.
We will have breakfast and then hike our last inca trail to Machupicchu (5am) up to Machu Picchu, free time to enjoy the Sunrise in Machupicchu. A walking tour of approximately 2 hours is given by your guide and after this you can explore the mysterious city by yourselves. If you have energy you can also climb Huayna Picchu (2720m/8890ft)! (It takes about 45 minutes to reach the top.).We'll take the Expedition train back to Ollantaytambo and a transfer to Cusco. We'll be in Cusco approximately at 22:30.
---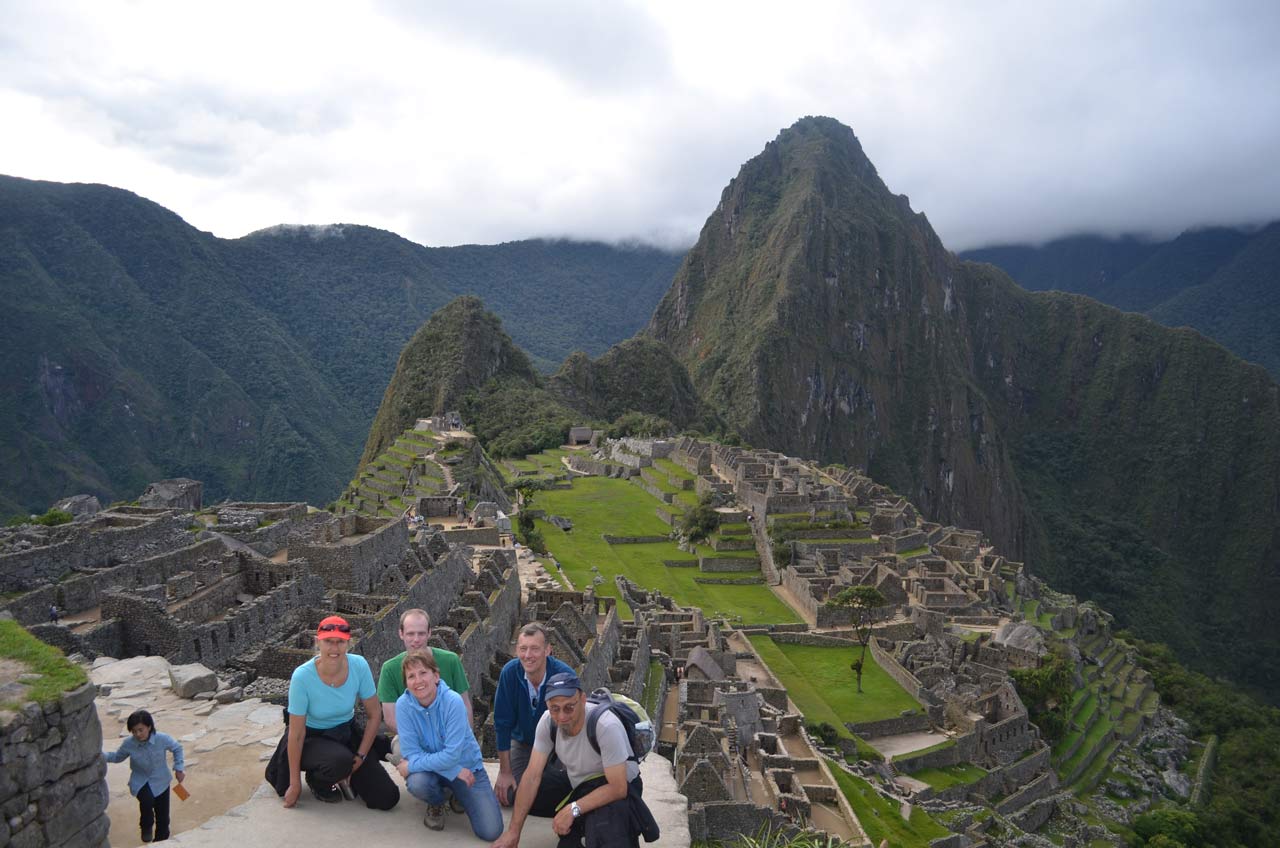 What's Included
One day before "briefing about your trail with our staff at our office".
Pick up at your hotel by your guide, time will be confirmed at the day of your briefing.
Private transport from your hotel to the train station.
English speaking professional guide experienced in trekking and degree in archaeology for Inca Trail and Machupicchu inca city.
Expedition Touristic Train from Ollantaytambo to 104 kilometer "Chachabamba"
Admission Ticket to the Inca trail, it will be send to you at the time of your booking.
Admission Ticket Machu Picchu Inca City.
1 Box lunch.
01 Dinner in a Machupicchu restaurant "please check menu", vegetarian option is available at no extra cost.
Sunset Free time in Machupicchu 1st day and Sunrise Guided Tour on 2nd day.
Bus ticket from Machu Picchu to Aguas Calientes.
Train Back Expedition from Aguas Calientes to Ollantaytambo train station.
Transfer from Train station to Cusco.
First-aid kit including emergency oxygen tank also an emergency radio and satellite phone is carried by your guide.
Not Included
Hotel in Machupicchu, we have some options on request, and prices will vary depending of the category of your preference. Also We have our own backpacker hostel in Machupicchu and you can get it for free , breakfast included.
Huaynapicchu or Machu Picchu Mountain climb entrance fees.
Energy snacks will be very useful as chocolate bars, dried fruits.
Tips for the staff (Tips are optional but of great appreciation for them; ITEP Travel staff receives a fair and decent payment immediately after they end their trip).
OPTIONAL:
Upgrade to Vistadome Train "Panoramic Train"– US$50 per each way per person "recommended in the route Aguas Calientes to Ollantaytambo".
Inca trail 2 Days Map
This map shows the route of the Inca Trail 2 days that start on km 92. Begins in Huayllabamba and ends on Aguas Calientes, Machu Picchu Village.
---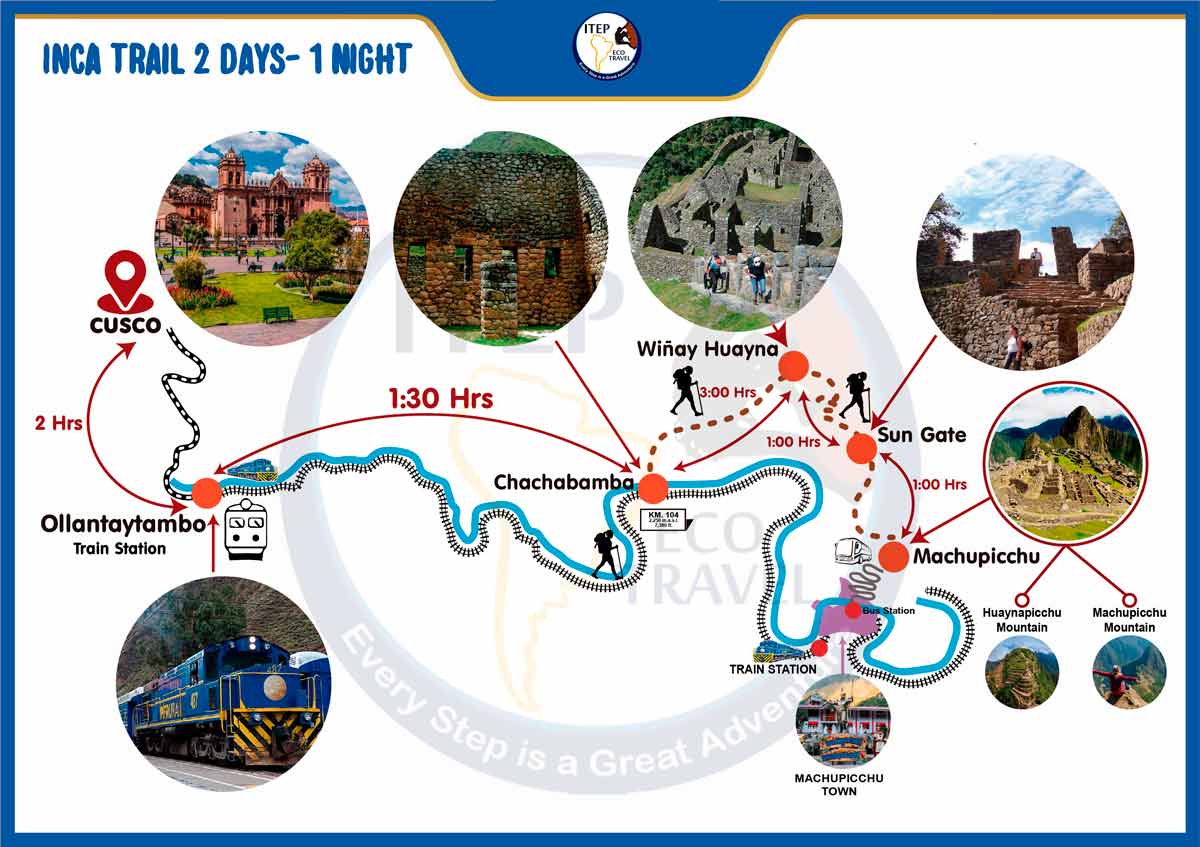 INCA TRAIL 2 DAYS VIDEO
Take a look of this incredible tour!. In this video we show you the best sighs of this trek , full of biodiversity, archeological remains and a peaceful hike that makes it an unforgettable experience. In this video you will see the sights of the Short Inca trail to Machu Picchu. We begin showing the first day in details such as the sites of Chachabamba, wiñayhuayna, inti punku, Machu Picchu sunshine and a night in Aguas Calientes. Next we show the second day, the exclusive Machu Picchu Sunrise.
Wiñayhuayna: Wiñayhuayna means 'forever young' and is considered to be a sacred place along the Inca Trail before coming to Machu Picchu.

Intipunku: Intipunku is also called the 'Sun Gate' and leads to Machu Picchu. This is a great vantage point where you'll get your first view of Machu Picchu. It was used by the Incas during their ceremonies for the summer solstice in December.

Chachabamba: Chachabamba is an archeological site left behind by the Incas believed to be dedicated to water.

What to bring for your Tour
Original passport
International Student Identity Card (ISIC) if you have a student discount
Walking boots/shoes
Waterproof jacket/rain poncho
Warm jacket, hat and gloves
T-shirts
Comfortable trousers
Sun hat
Sunglasses
Sun protection cream (factor 35 recommended)
Re-usable plastic or metal water container or camel bags
Water
Insect repellent
Toiletries
Personal medication
Camera
Optional items to bring for your Tour
Shorts
Walking stick (with rubber tip)
Plasters and bandages
Sandals
Extra money for personal expenses, tips, lunch on last day, snacks, etc. We recommend that you bring around 200 Peruvian Nuevos Soles
Bathing suit for the hot springs in Aguas Calientes
Discounts
Itinerary may change according to the climate and health status of the trekkers.
Train times for the Expedition train to Ollantaytambo may change according to the train company's availability and will be confirmed close to the time of the trek. If someone books later than most of the group, we may not be able to provide the same train as the rest of the group.
Change to earlier/later train time at time of booking (price depending on train availability)
Tips/gratuities not included but are optional according to the services rendered
Notes for your Tour
Shorts
Walking stick (with rubber tip)
Plasters and bandages
Sandals
Extra money for personal expenses, tips, lunch on last day, snacks, etc. We recommend that you bring around 200 Peruvian Nuevos Soles
Bathing suit for the hot springs in Aguas Calientes
| | |
| --- | --- |
| Trip style: | Archaeological, Cultural, Landscape, Ecological, Camping |
| Activities: | trekking and visit Machu Picchu. |
| Departures Dates: | Every day from March to January (please check availability ) |
| Visited Places: | Ollantaytambo - Chachabamba - Wiñaywayna - Inti Punku - Machu Picchu - Aguas Calientes |
| Physical Grade: | medium |
| Inca Trail: | *Service Group/Shared |