"Classic" Inca Trail to Machu Picchu in 4 days
The Inca Trail got used as a communication system for the Incas to run from one place to another in the humongous Inca Empire which stretched from south Colombia to north of Argentina. There are different Inca trails to hike, but this one is the most famous Inca trail and it will take you from Sacred Valley to Machu Picchu which is one of the Seven Wonders of the World, through beautiful landscapes and different archaeological Inca sites.
---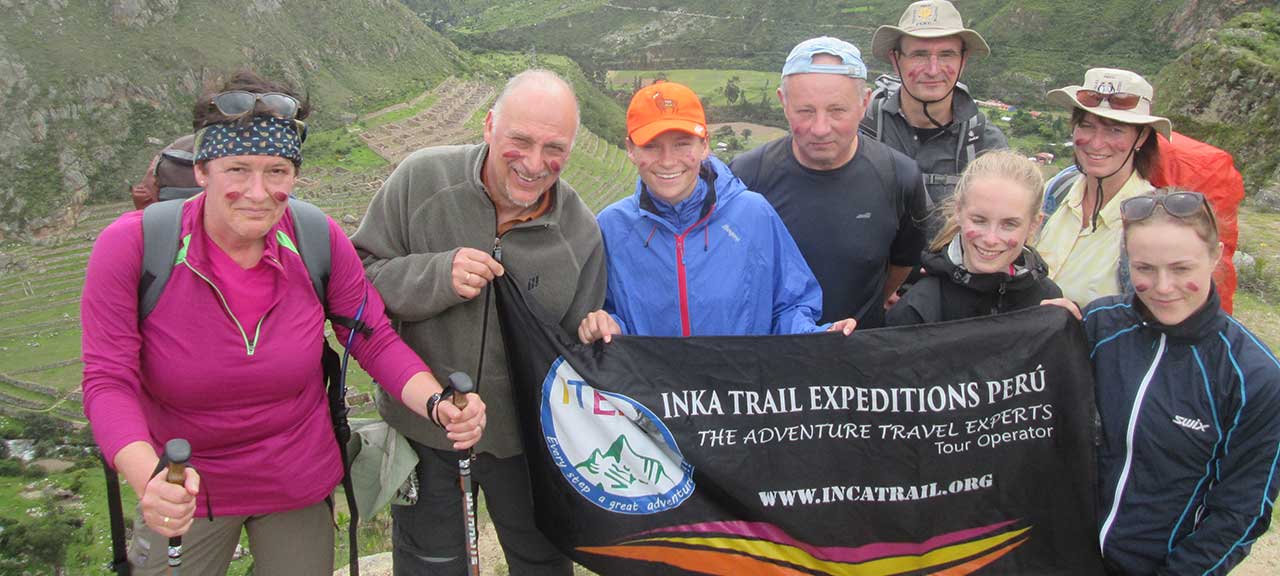 ---
Availability for Classic Inca Trail to Machu Picchu in 4 Days / 3 Nights
Our departure dates for the Inca Trail are from March to January. Our recommended dates are from April to October, because of the rain season. The Inca Trail has a strict limit on how many people can use the Inca trail (500) three hundred of them are the guides, porters and chefs. Therefore we will recommend you to book your trip as soon as possible around 6 months in advance.
Itinerary
Day 1: Cusco – Huayllabamba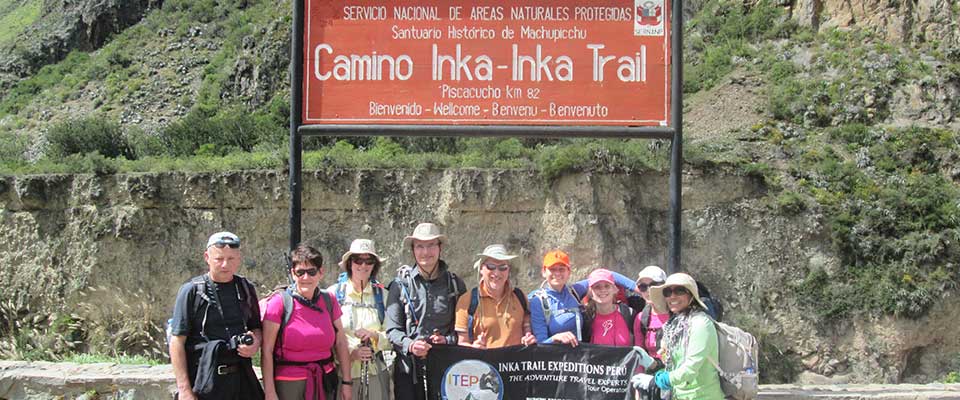 Our journey to Machu Picchu through the classical Inca trail begins at your hotel, from where you will be picked up after the breakfast (optional) around 6:00 – 6:30. From your hotel you will have a transfer 2 – 2.5 hours with your guide to our starting point which is called km 82. At the starting point you need to show your Inca Trail permission card, your original passport, and your ISIC card if you have one.Here the Inca Trail begins and we will start hiking for 2 hours to Miskay, where we are going to enjoy a nice lunch. The hike to Miskay is a flat and a beautiful walk, where we can enjoy the incredible flora of the landscape around us.
After the lunch we are going to have another two hours hike to Wayllabamba (3.000 m.) which will be our camping spot. We will arrive there at 5:00 pm in the afternoon, and we will enjoy a nice dinner from our personal professional chef at 6:30 pm. After the dinner we will settle down for the night.
Day 2: Huayllabamba – Pacaymayo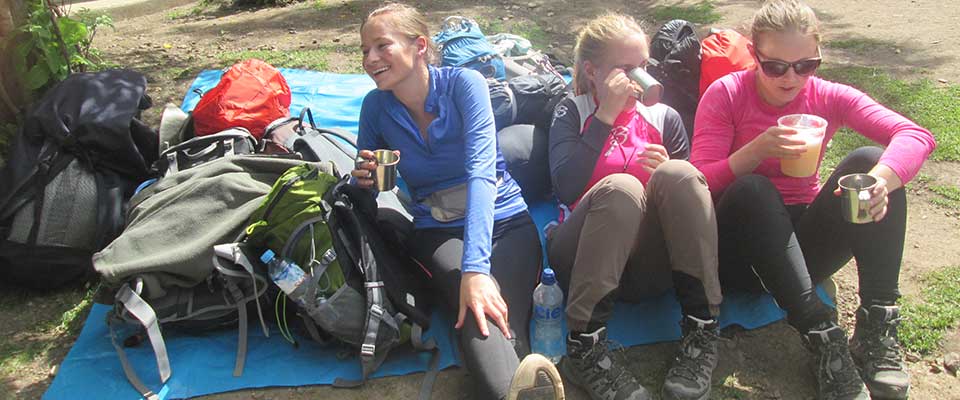 At the second day the guides wakes us up at 5:30 with warm tee, so we can get a good start of the day at the Inca trail and we will eat breakfast at 6:00. Our first hike of this day begins at 6:30 and it will take around 5 hours (7 km) to get from our camp to the high spot which is called dead woman pass (4.600 m), where you can experience the female spirit, a woman that lives on the side of the mountain.
From this place we have a 2 hour hike down to our second camping spot (Pacamayu 3,600 m), where we finally will have our lunch after 7 hours of hiking in total on the Inca trail. At the camp we will rest and around 6.30 we will have dinner. Later we will get comfortable under our blankets, so we can stay warm for the cold night.
Day 3: Paqaymayo – Phuyupatamarka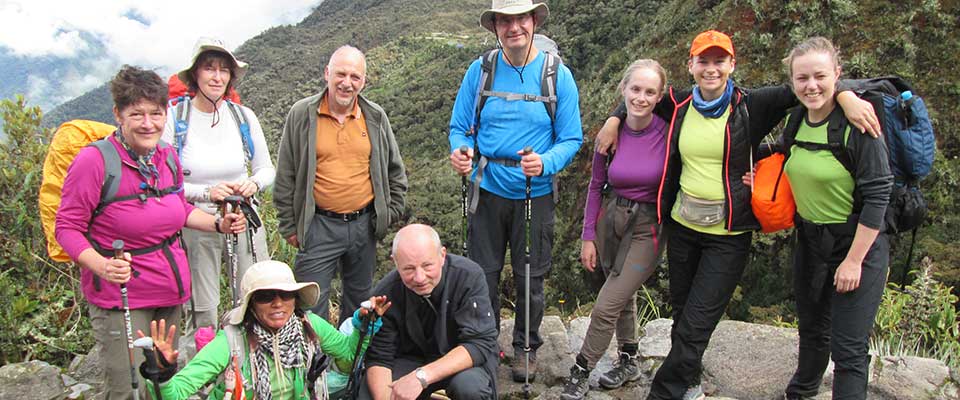 We get up at 6:00 am and breakfast will be served by the chef at 6:30. At 7:00 we will start hiking. This day is a very special and beautiful day where we will pass 3 Inca ruins along the Inca trail. To get to the first Inca ruin Runkqurakay (3.800 m.), we have to hike one hour up; thereafter we have another hour of walking to the second high spot, Runku Pass (4.000 m.). After the second Inca ruin it will get easier, from there we will walk down for 45 m. to Sayacmarka (3580 m.).
After the visit we will have 25 min. to chakicoccha (3.600 m) where we will enjoy our lunch in natural surroundings and incredible landscape. After the lunch we have a one hour hiking to Phuyupatamarka (3.60 m), which is the last hike on the Inca trail of this day. On this place we can find the last Inca construction for today.
From this point we will have an easy two hour walk down to Wiñnahuayna (2.600 m), where we will settle our camp and our chef will make a nice buffet to everyone so we can say goodbye to the chefs and the porters in a very nice way at 6.30. If you still have energy left after the hike, you can visit the archaeological site of Wiñay Huayna, only 5 minutes from our camp spot, a really delightful site on the Inbca trail with a lot of terraces and ruins.
Day 4: Wiñay Wayna – Machu Picchu – Aguas Calientes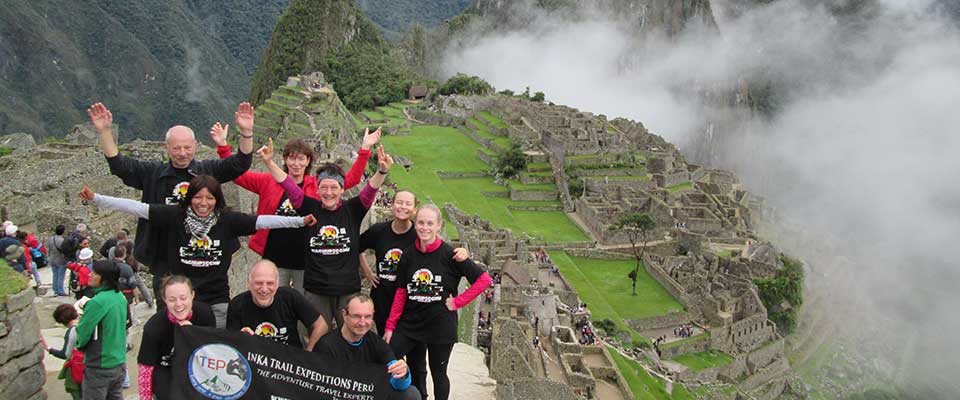 On the last day we get up very early 3:30 and eat breakfast at 4:00. After the breakfast we begin hiking to the first checkpoint which opens at 5:30. After the checkpoint we have one hour of hiking to the Sun gate, from where we will have great views of Machu Picchu and all the surrounding mountains. Here we will have 20 min. to rest. Thereafter we have 10 min. down to the lost city of the Incas; Machu Picchu. Here the Inca trail ends and we will enter the wonder of Machu Picchu. At the city, we have to pass the second checkpoint for leaving our bags and it will cost you 3 soles for every back, which is necessary.
There you will also need to show your passport, the ticket and the ISIC card if you have one. Thereafter your guide will show you around the Machu Picchu and the different important sites, ruins and temples of the site from 8:00 to 10:00. After the tour you will have some free time to explore the city, its many different roads and its beautiful surroundings. After you have enjoyed the magnificent city of the Incas you have to use your bus ticket to get down to Aguas Calientesand then take the train back to Cusco via Ollantaytambo. The "expedition train" leaves at 6.30 in the evening and arrives at Ollantaytambo after 2 hours. At Ollantaytambo there will be a bus waiting for you to take you back to Cusco. Here your journey will end at 10:30 in the night.
What's Included
Briefing one or two days before the tour.
Transport.
Transfer from their hotel until km. 82.
Entrances tickets to Inca trail and Machu Picchu.
English and Spanish speaking Professional Guide.
Camping equipment, (2 person tents, mattresses, Cooking equipment, tables and chairs).
Porters carrying your camping and cooking equipment excep the mattresses.
Professional cook.
3 breakfasts, 3 lunches, 3 dinners – Vegetarian food, or other diet requirements can be arranged with no further charge.
First aid kid and oxygen bottles.
Bus ticket from Machu Picchu to Aguas Calientes.
Not Included
First breakfast before the transfer on the first day – lunch at the last day at Aguas Calientes.
Sleeping bags.
Extra porter for personal items.
Tips are not included but it is optional.
Inca trail 4 Days Map
This map shows the route of the Inca Trail 4 days that starts on km 82. Chachabamba and ends on Aguas Calientes, Machu Picchu Village.
---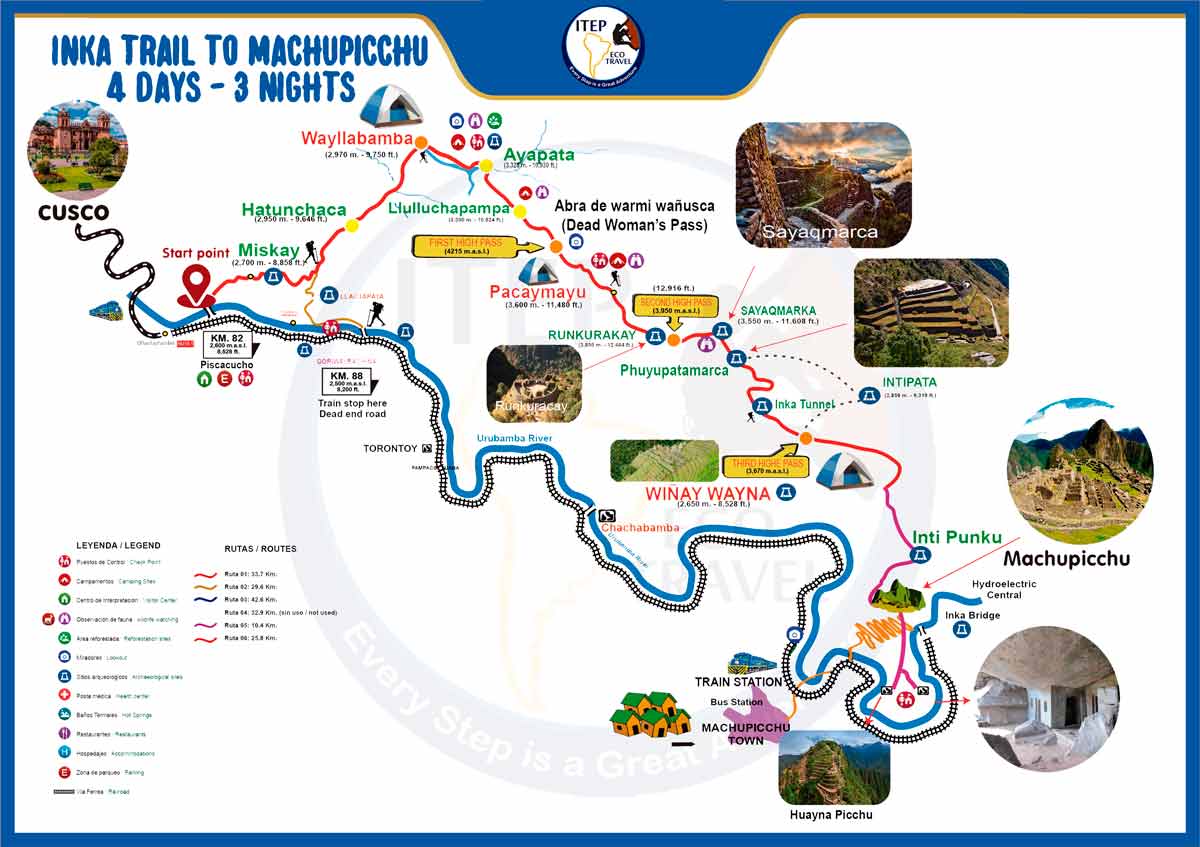 ---
Inca Trail 4 Days VIDEO
In this video you will see the sights of the Classic Inca trail to Machu Picchu. We begin showing the four days in details such as the sites of Runkurakay, Sayacmarka, Wiñayhuayna, Inti Punku, Machu Picchu Sunshine and a night in Aguas Calientes. Next we show the second day, the exclusive Machu Picchu Sunrise.
What to bring for your Tour
Original passport
International Student Identity Card (ISIC) if you have a student discount
Walking boots/shoes
Waterproof jacket/rain poncho
Warm jacket, hat and gloves
T-shirts
Comfortable trousers
Sun hat
Sunglasses
Sun protection cream (factor 35 recommended)
Re-usable plastic or metal water container or camel bags
Water
Insect repellent
Toiletries
Personal medication
Camera
Optional items to bring for your Tour
Shorts
Walking stick (with rubber tip)
Plasters and bandages
Sandals
Extra money for personal expenses, tips, lunch on last day, snacks, etc. We recommend that you bring around 200 Peruvian Nuevos Soles
Bathing suit for the hot springs in Aguas Calientes
Discounts
Itinerary may change according to the climate and health status of the trekkers.
Train times for the Expedition train to Ollantaytambo may change according to the train company's availability and will be confirmed close to the time of the trek. If someone books later than most of the group, we may not be able to provide the same train as the rest of the group.
Change to earlier/later train time at time of booking (price depending on train availability)
Tips/gratuities not included but are optional according to the services rendered
Notes for your Tour
Shorts
Walking stick (with rubber tip)
Plasters and bandages
Sandals
Extra money for personal expenses, tips, lunch on last day, snacks, etc. We recommend that you bring around 200 Peruvian Nuevos Soles
Bathing suit for the hot springs in Aguas Calientes
Trip style:

Archaeological

Cultural

Landscape

Ecological

Camping

Activities:
trekking and visit Machu Picchu.
Departures Dates:
Every day from March to January (please check availability )
Visited Places:
Cusco - Huayllabamba - Pacaymayo -Phuyupatamarka - Wiñay Wayna – Machu Picchu – Aguas Calientes
Physical Grade:
medium
Inca Trail:
*Service Group/Shared